Doceree, a leading global platform building unprecedented solutions for healthcare professionals (HCPs) through programmatic messaging with proprietary data tools, today said it has witnessed three times growth in point-of-care investment, making it one of the best performing channels on its demand side network that drove 32% higher script lifts through trigger-based messaging in 2022.

The company also recorded a double digit growth in new partnerships with some of the strategic global alliances being with Tealium and Populus Media, it said while outlining its growth vision for 2023 and highlighting the key milestones achieved last year.
"Growing a company comes with its own challenges, yet the rewards are gratifying and give everyone a desired push to achieve more. Doceree was envisioned as a company that improves health outcomes and reduces healthcare costs globally. Being a pioneer in programmatic messaging, Doceree has grown from strength to strength in the last one year. Propelled by the achievements, we are filled with renewed energy to spur our growth momentum multi-fold this year," Harshit Jain MD, Founder and Global CEO, Doceree, said commenting on the robust year-on-year (Y-o-Y) growth of the company.
Doceree reached over 1.5 million HCPs in 10+ markets the past year as it bolstered its operations in the US, the European region and India, becoming the only platform to provide such vast targeted HCP reach globally. Strengthening its positioning in the global market, it also ventured into GCC and APAC regions.
Led by Thomas Shea, the Chief Revenue Officer, Doceree's sales team in the US expanded from one person to nine with key joiners coming in from reputed organizations such as WebMD, Verix, Health Media Network Programmatic. The team enabled Doceree to considerably grow its partner count and provide life sciences brands unparalleled targeted reach of HCPs at decision-making moments within the point-of-care. Enabling life sciences brands to deploy messages during script generation moments of a provider's online journey helps them garner improved business outcomes.
"It is an exciting time for the AdTech space, and I am thrilled to be a part of a company that is well equipped to cater to the burgeoning demands of the market with its innovative technologies," said Shea. "Last year, we focussed on creating an upward sales trajectory in the United States and have been lauded to foster deeper relationships and embolden success of our partners."
Augmenting its technological capabilities, Doceree also invested in data analytics, privacy, and transparency to bring effectiveness and efficiency in HCP messaging globally. With over 30 new strategic hires specializing in AdTech, CDP & Machine Learning (ML), the company successfully introduced multiple industry-first AI solutions and leveraged data and technology to bring about unprecedented efficiencies in the healthcare programmatic marketing space.
Doceree ABM was introduced to enable life sciences brands to target institutional decision makers, influencing how a pharmaceutical product is positioned overall in the market. Besides, the launch of Doceree Assist was aimed at combating medication abandonment by communicating affordability messaging to HCPs at prescribing moments within eRx platforms. With Assist, cost per coupon distribution (CPD) is optimized in real time basis affinity of the NPI to prescribe the product also basis the prescription volumes of a drug. Alongside, there had been feature addition in Doceree Perform for ABM account lift. The breakthrough measures led the company to disrupt the category which has long been marred by fixed costs and lack of clarity on outcomes, data and insights.
The company plans to further strengthen its data and engineering team as its braces itself for more sophisticated product launches this year. "2023 will be even more exciting as we would be significantly expanding our global presence and introducing some pathbreaking industry-first solutions," said Jain.
Establishing itself as an undisputed leader in the point-of-care space, Jain launched a book authored by him – 'The Next Marketing – To Healthcare Professionals' – that delves into the nuances of POC marketing and provides insightful learnings to life sciences marketers. To provide a larger view of the industry, Doceree 360 – an annual report encapsulating insights from more than 250 campaigns run on its platform in 2022 – was released as the company sought to bring standardization with concrete data points and metrics. Currently, Doceree is the lone player that is utilizing technology to build the point-of-care ecosystem and grow the category while empowering life sciences companies to scale their business.
"It is when the point-of-care ecosystem is evolving so fast that we must take a lead to accelerate adoption. We have been making consistent and concerted efforts to be that leader in the space and create an environment where our partners grow substantially and maximize outcomes. In the past year, we have seen huge growth in point-of-care campaigns and our partners are tremendously inclined to learning from crucial insights and growing on the back of our product innovations," said Matt Botkin, Senior VP, Business Development (Point-of-Care).
Recognized as the 'Best Places to Work' by Medical, Marketing and Media (MM+M) in 2022, Doceree increased its overall employee count from 25 to over 100 within a year and reinforced its commitment to Diversity, Equity and Inclusion by introducing a company-wide global DE&I initiative that involved a series of measures to build a cohesive environment for its employees spread across different markets.
About Doceree
Doceree is a global platform building unprecedented solutions for healthcare professional (HCP) programmatic messaging with proprietary data tools. It facilitates messaging between life sciences brands and HCPs through an extensive global network of digital endemic and point-of-care platforms to programmatically deliver personalized communications to HCPs and transparent marketing campaign metrics at scale. To learn more, visit doceree.com.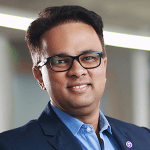 Harshit Jain MD, Founder and Global CEO, Doceree 
The Founder and Global CEO of Doceree, the First Global Network of Physician-only Platforms for Programmatic Marketing. With Doceree, he is aiming to address the acute problem of rising cost of healthcare by bringing in efficiency and effectiveness in marketing to Physicians by pharma brands on digital platforms with methodical use of data and creativity. A healthcare innovator, he is driving health transformation across the globe, delivering life changing, creative and sustainable ideas. Recognized as Elite 2020 Disrupter Award by premier global PM360 Magazine for his venture, Dr Harshit has addressed some of the biggest health challenges – Immunization, Vitamin D deficiency, Diabetes by creatively and innovatively using data. In his over 13 years of professional journey, he weaved together his domain expertise of medicine and his marketing acumen to come up with out-of-the box ideas and campaigns in the healthcare space.