US healthcare costs grew by 9.7 percent in 2020 alone but that did not stop the need for healthcare providers to create better patient outcomes and communicate in the most effective ways possible. With rising healthcare costs and a forever-changed medical system due to the COVID-19 pandemic, the marketing landscape for healthcare professionals (HCPs) has changed dramatically and the ability for marketers and publishers to reach them even more challenging.
The life sciences industry is made up in part by pharmaceuticals, biotechnology, medical devices and biomedical technologies, among others. And it's not just that rising healthcare costs are impacting these industries, life sciences organizations are currently facing additional challenges like inefficient targeting that results in dissatisfactory ROI outcomes when it comes to Point-of-Care (POC) marketing. Many professionals practicing digital POC often fail to get the broader picture of how their investment has been used, implying non-transparent advertising campaign measurement and analysis practices.
While there is no easy fix, there are immediate steps life sciences can take to efficiently cultivate and facilitate digital marketing strategies, including improved messaging.
Understanding Evolving Patient Needs
Today's modern patient is digital-savvy, but that's not to say they are ready to hand over personal healthcare data to big tech companies. In fact, a recent report from the American Medical Association (AMA) highlighted 67.4% of respondents felt uncomfortable with Big Tech companies handling their data. However, those surveyed said they were comfortable with a doctor's office, hospital or healthcare system handling sensitive data.
Although privacy concerns are top of mind — modern patients trust their healthcare providers to deliver important information like after-care options, prescription updates and advancements in procedures. That's where POC marketing becomes critical for pharmaceutical and healthcare companies looking to reach patients within a trusted environment.
Real-time, Relevant Information
POC marketing focuses on delivering important messages in a physician's office to patients. While earlier POC used to be an ad in a medical magazine or perhaps a pamphlet with the latest medical research — it has now evolved to digital. For example, a pharmaceutical company now has the ability to share a new coupon on a prescription with physicians through targeted content and messaging available on certain healthcare provider networks.
Pharmaceutical and life science organizations looking to reach busy physicians must consider the messaging landscape within POC marketing to succeed and break through the noise.
As messaging, content and regulations change, marketers should consider informative and value additive messaging through content options like coupons, treatment options, new medical research and studies in order to build trust.
Like other forms of marketing, creating a personalized approach, including messaging for each stage of the funnel is not a nice-to-have, but a necessity. There is more data available, thanks to AI-powered analytics. The global AI market is expected to increase by 38.1% before 2030, creating even more opportunity to leverage technologies to create effective campaigns capturing impactful moments to reach physicians.
Nailing the Basics of Messaging
Simply investing in POC marketing is not enough. Advertisers in life sciences must ensure they are elevating messaging offerings. There is an opportunity of offering patients assistance during POC messaging campaigns such as when physicians are prescribing drugs or therapies. Also, as telehealth is becoming the new point-of-care, it is increasing digital touchpoints for consideration.
Once effective POC campaigns are launched, there is an opportunity to optimize inventory offerings in order to boost revenue. Understanding physicians' digital behaviors allow marketers and publishers to deploy messages at opportune moments, increasing efficiencies and costs. Effective POC strategies allow life science brands to truly understand the needs of the patients and provide physicians with tools to improve communications, the prescription process and billing — potentially helping to decrease overall healthcare costs.
The past few years have highlighted the need for POC marketing as conversations between physicians and pharma marketers became arguably more critical than ever before. And it is not only communicating effective messaging that has proved to be essential. Successful marketing campaigns ultimately help to deliver needed information to the patient resulting in an overall positive impact on patient care.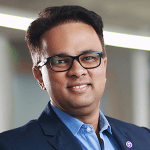 Harshit Jain MD, Founder and Global CEO, Doceree 
The Founder and Global CEO of Doceree, the First Global Network of Physician-only Platforms for Programmatic Marketing. With Doceree, he is aiming to address the acute problem of rising cost of healthcare by bringing in efficiency and effectiveness in marketing to Physicians by pharma brands on digital platforms with methodical use of data and creativity. A healthcare innovator, he is driving health transformation across the globe, delivering life changing, creative and sustainable ideas. Recognized as Elite 2020 Disrupter Award by premier global PM360 Magazine for his venture, Dr Harshit has addressed some of the biggest health challenges – Immunization, Vitamin D deficiency, Diabetes by creatively and innovatively using data. In his over 13 years of professional journey, he weaved together his domain expertise of medicine and his marketing acumen to come up with out-of-the box ideas and campaigns in the healthcare space.