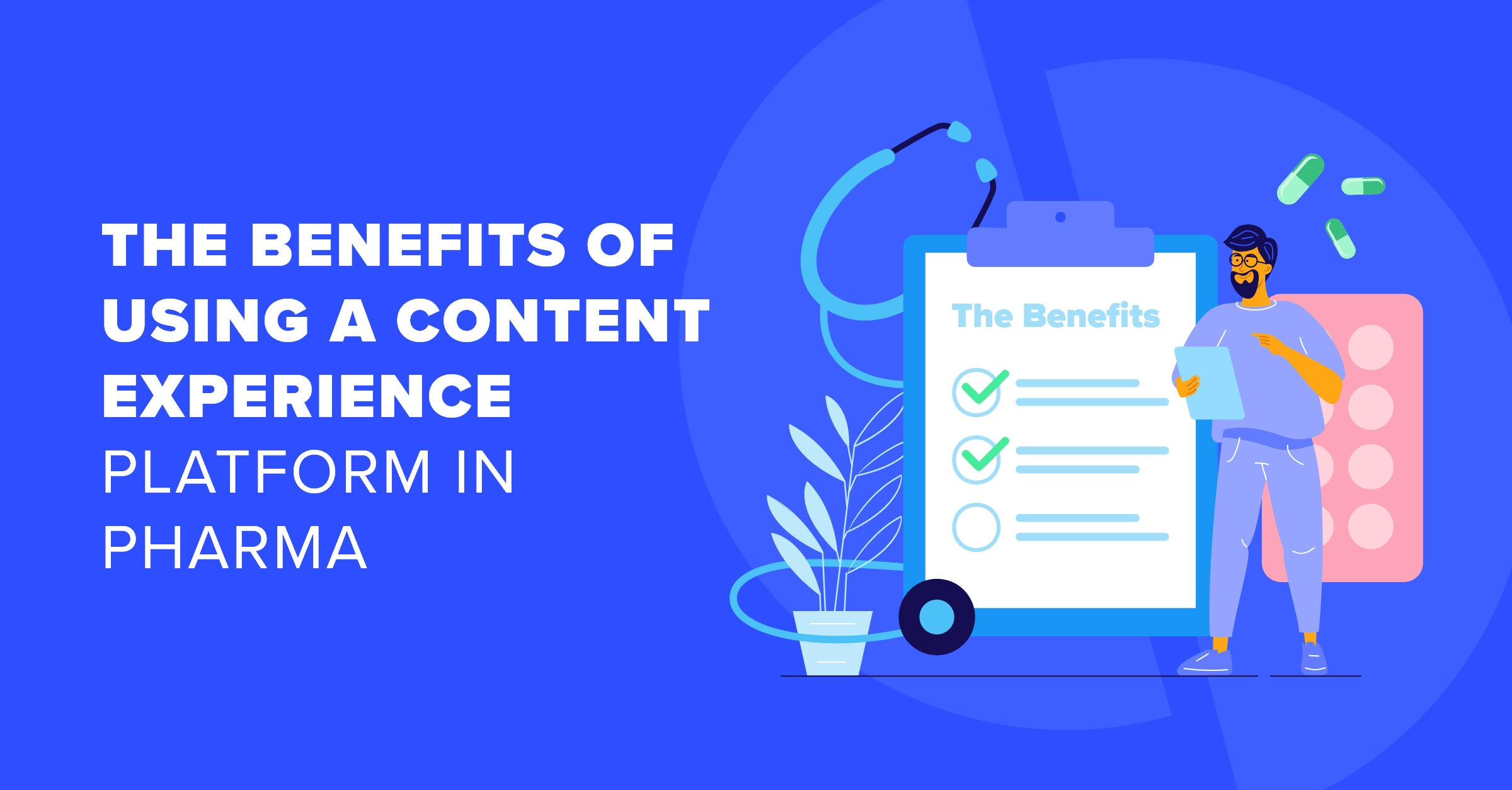 Content and experience are the two most essential things in today's pharma marketing.
While healthcare professionals (HCPs) and patients consume tons of different content across multiple channels, pharma brands must transform the traditional approaches used by their teams for years to make a difference in delivering their products and services in the new omnichannel reality.
Often being unable to deliver an individual customer experience, pharmaceutical content marketing specialists have been facing a few crucial problems:
It's expensive to produce content and adapt it to other markets.
It's necessary to consistently use more and more content considering the variety of customer segments and marketing sources.
It's hard to sustain a high level of quality when it comes to large amounts of content.
Here's where content experience platforms can play a key and positive role.
What is a Content Experience Platform?
Also called a digital experience platform, a content experience platform allows marketers to create the best experience for customers by simultaneously creating, managing, delivering, and tracking different types of content within a single environment that integrates multiple channels such as email, messaging apps, social media, and beyond.
Content Experience Platforms vs. Content Management Systems
Don't confuse content experience platforms with content management systems.
A content management system deals with producing, editing, organizing, and publishing content solely on websites. Regarding a digital experience platform, it handles a content marketing strategy that incorporates content production, distribution, and optimization through a few sources simultaneously.
Why Using Pharma Content Experience Platforms?
Content experience platforms can help a pharma business save resources and get enough valuable data to boost sales and increase brand awareness based on the modular content approach.
Thanks to modular content, pharma can simplify content creation by arranging it into modules — the tiniest dynamic units to reuse and update across different channels. Every module contains corresponding pharma content such as the core message, text, media, and references.
Here's how the pharma industry can benefit from content experience platforms:
Benefit 1. Digital Content Reusability
As we mentioned above, the core feature of modules is the ability to reuse them across different channels according to the current content marketing goal. As the benefit per se, module reusability opens lots of other opportunities we mentioned below.
Benefit 2. Hyper-Personalization and Segmentation
The success of content marketing is all about delivering personalized experiences. A digital experience platform can help pharma brands segment customers according to their needs and preferences and create unique content journeys for each consumer segment using tailored messages sent via the preferred channel mixes.
Benefit 3. Workflow Automation
Integration between a digital experience platform and marketing automation (MA) platform allows pharma companies to optimize the entire pharma content cycle by automatically sending the right content at the right time and through the right channel.
Benefit 4. Simple Localization
In an integrated module-based ecosystem, the processes of content adaptation and publication to local markets happen in a few clicks. After a marketer creates a module for one country, they can adapt it to other countries by using this module as a basis, adding the translated text to it, and publishing it using the needed filter option in the system.
Benefit 5. Faster MLR Review
When it comes to regulated content, pharmaceutical stakeholders can validate it for days and even weeks. A digital content experience system streamlines the medical-legal regulatory (MLR) review process by allowing pharma companies to use the pre-approved blocks. Not to mention that facilitated MLR review allows to speed up the time to market.
Benefit 6. Real-Time Analytics
A digital experience platform supports API integrations with popular customer relationship marketing (CRM) software, which allows companies to monitor the performance of launched pharma content for different segments of the target audience, see the big picture, and improve marketing campaigns in the future.
Benefit 7. Cross-Functional Team Collaboration
In a digital experience platform, different pharma companies and agencies can enhance efficiency, save resources, and support each other by coordinating actions between their global and local offices using a collaboration tool.
Deliver the Best Experience with the eWizard Platform
Digital marketing in pharma is going through the process of big transformations. Multichannel solutions don't bring a decent digital experience to pharma customers who have enough sources to search for information about the advantages and disadvantages of companies and their products.
A content experience platform like eWizard is the next-generation digital solution that handles the main pharma content and HCP engagement challenges with the help of advanced technology. When chosen wisely, a digital experience platform will support a pharma company in its omnichannel evolution by suggesting the right ways to satisfy the needs of HCPs and establishing long-lasting communication based on loyalty and trust.
Healthcare Business Today is a leading online publication that covers the business of healthcare. Our stories are written from those who are entrenched in this field and helping to shape the future of this industry. Healthcare Business Today offers readers access to fresh developments in health, medicine, science, and technology as well as the latest in patient news, with an emphasis on how these developments affect our lives.