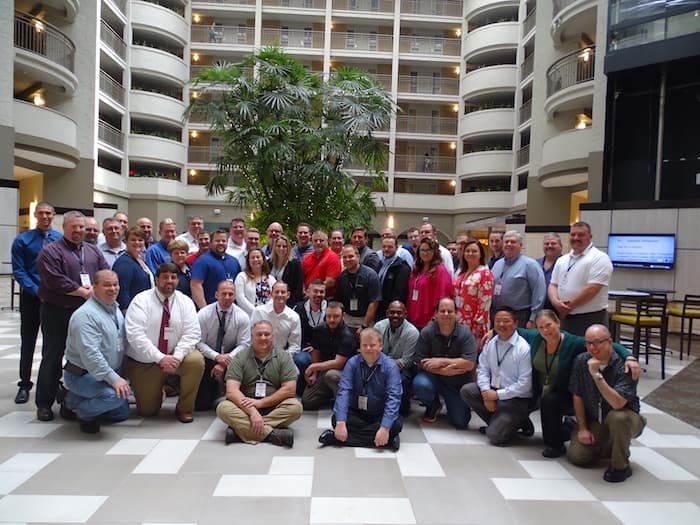 Last week, Fitch & Associates recognized and congratulated the newest class of 47 graduates of the 2019 Spring Ambulance Service Manager (ASM) program.
EMS professionals from across the nation recently completed the 10-week blended learning program in Jacksonville, Florida. The program included eight weeks of online learning and two weeks in a traditional classroom setting.
"ASM is designed to develop professional and personal skillsets to transform good managers into great leaders," said Anthony Minge EdD., Senior Partner for Fitch & Associates. "Our program sets very high standards for EMS professionals and these graduates have proven they are highly qualified and more than capable to serve their communities in a leadership capacity."
Students were engaged in a rigorous curriculum designed to develop and enhance the skills of today's effective EMS leader. Attendees gained insight and practical knowledge from Minge along with experienced EMS industry leaders including Brenda Staffan, Todd Stout, Jerry Overton, Mike Taigman, Jay Fitch PhD, David Nelson DMin, and many more.
Case studies are used frequently throughout the course, providing real-world applications of the theories and allowing participants to work together to make decisions faced by EMS managers every day.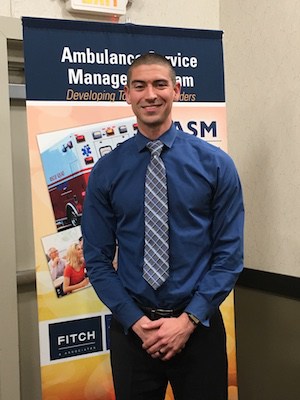 Each ASM class also recognizes one student with a leadership award, an honor bestowed upon them by their peers. The award is presented to a classmate whom the students feel has exhibited exceptional personal and professional leadership qualities throughout the course and who the students feel represents the best in EMS. The Spring 2019 ASM leadership award was presented to James Campbell, Montgomery County Hospital District, Conroe, TX.
Graduates will be recognized at the Pinnacle Leadership Conference in Orlando, Florida July 22-25, 2019. You can find more information on Pinnacle at www.pinnacle-ems.com.
To learn more about the Ambulance Service Manager program and to register for an upcoming course, visit www.fitchassoc.com/ambulance-service-manager-asm-program/.
Spring 2019 ASM Program Graduates – Jacksonville, Florida (Photo Caption)
Back Row: James Campbell, Jason Payne, Kelly Cope, Justin Reed, Tom Keagle, Robert Mateff, John Griffith, Christopher Watts, Steve Stith, Andrew Cherry, Hank Bevington, Nicholas McDaniels, Mark Haygood, Aaron Sawyer, Paul DiCicco, Shaun Kirkdorffer, Michael Semple, Row 2: Bryan Gallimore, Bradley Hughes, Andrew Crutchfield, Adam Ralston, Carissa Hall, Bengie Cowart, Alex Barczak, James Crutchfield, Nicole Linhardt, Celina Bradsby, Rodney Medlin, Jeremy Compau, Row 3: James Morris, Amy Brown, Bevala Manning, Chad Anderson, Victoria Sacco, Row 4 (kneeling): Raymond Bailey, Patrick Howard, Shannon Davis, Brian Napolitano, Dudley Lee, Travis Spencer, Corey Thomas, Dack Spang, Karl Rock, Paula Thomas, Justin Cuccio, Row 5 (sitting): Brian Ireton, Daniel Brookshier
Healthcare Business Today is a leading online publication that covers the business of healthcare. Our stories are written from those who are entrenched in this field and helping to shape the future of this industry. Healthcare Business Today offers readers access to fresh developments in health, medicine, science, and technology as well as the latest in patient news, with an emphasis on how these developments affect our lives.