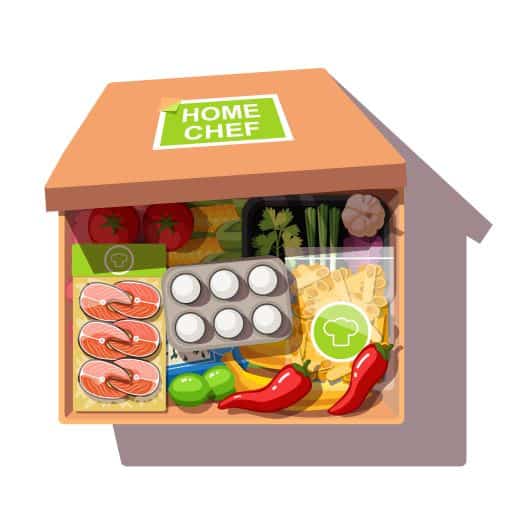 Health should be part and parcel of one's overall lifestyle. Taking care of your health will ensure that you reduce the risk of suffering chronic and long-term diseases. For instance, many people with high blood pressure do so, most probably because of unhealthy eating habits. Apart from taking in a balanced diet on a regular basis, you also need to engage your body in regular physical activities. Making these aspects part of your life will improve your physical, mental, and emotional fitness, which is what everybody would like to enjoy.
With that said, there are several methods that people use today to improve their health, one of which is using meal kits. These subscription services can have a huge impact on your health and financial wellbeing as it ensures you eat healthy food while saving on costs. So, what are meal kits and how can they actually improve one's health?
What is a meal kit?
A meal kit is a delivery service that specializes in sending recipes and pre-portioned ingredients to customers. As a buyer, all you need to do is follow the recipe and prepare your meals without having to worry about specific ingredients. In some cases, the seller may include pre-cooked materials, especially if your diet includes food that demands preparation. (3)
It's also worth noting that this is usually a subscription service. This means the company will be sending you a specific set of recipes and their corresponding ingredients every day of the week. Of course, you can adjust your diet anytime you like and receive another customized meal kit.
How do meal kits services work?
Before you can enjoy the benefits given by these service providers, you'll first need to choose a company that offers the best meal kit services. Keep in mind that there are many organizations currently in operation, but not all of them are ideal for your needs.
Here's a quick rundown of what'll happen if you avail yourself of their services:
Select a meal kit
You probably already have an idea of what you'd like to have in your diet. With that information, you can go through various meal kits and choose the one that best fits your needs. Most companies categorize their meals based on taste, nutritional values, and budget.
Make sure to select the right nutritional set to get the best out of meal kits. For instance, you could alternate the type of food included in the weekly servings but still ensure that the diet is always balanced.
The next step will be to decide the number of meals you'd like to receive per week. You'll also need to specify the portion or rather the number of people to be served. Finally, hit the 'order' button and wait for your package to be delivered.
Delivery
When the package arrives, you'll find all the ingredients and their corresponding recipe. The materials are always placed in an insulated box, hence they can remain fresh outside the fridge for up to eight hours, depending on several environmental factors. Therefore, it's recommended that you schedule your deliveries a few hours before you start cooking to make sure that the materials will still be fresh during the preparation process.
It's worth noting that some basic requirements like pepper, salt, and milk may not be included in the box. So, you might want to check and confirm if you need any of these to avoid any distraction once you start cooking.
Preparing your meal
The final step towards enjoying your first meal kit is the preparation process. If you're the kind of person that loves exploring new ingredients and cooking techniques, this is perfect for you. Since everything else has been done for you, all that remains is to follow the recipe closely. 
Financial benefit of meal kits
As a meal kit service subscriber, you'll enjoy both financial and health benefits. There are many ways you can save money for future use––from car maintenance to cutting on your daily spending as mentioned on most finance websites like Money Under 30.
However, people rarely talk about how you can save money through better eating habits. Meal kits can help you meet your financial objectives by ensuring that you significantly cut the amount you spend on food.
Remember, wasted food equals wasted money. You've probably bought a lot of groceries at some point, only for them to go bad in your fridge because you didn't use all of them within the required time. As a result, you either end up buying other groceries to replace the rotten ones or order takeout food for the night. The wasted dollars, therefore, will continue adding up; before you know it, you're already spending hundreds within a few weeks.
Many meal kit service providers set their prices at between USD$12 and USD$15 per meal. With these specific values, you'll be able to plan for the whole week and have precise numbers in your calculations. You can also extrapolate your weekly spending to monthly or quarterly, which is a great way of planning ahead.
Another benefit of using most of these services is the fact that you can adjust your schedule and make orders whenever it's convenient for you. For instance, it can be frustrating when your orders are ready, then you run out of cash or are out of town. Your service provider will allow you to make the necessary adjustments rather than opting for takeout food, which can seriously affect your daily and weekly budget.
Apart from financial advantages, meal kits have also proven to have huge benefits on the user's health. Read on to learn more!
How can meal kits improve your health?
For people who love cooking, meal kits can help nurture their skills and learn new cooking methods. But that's not the only advantage that comes with this program. As a subscriber, you can actually benefit your health through meal kit services in the following ways:
Ensures nutritional balance
One of the hardest things to achieve when preparing your own food is nutritional balance. Getting the nutrient portions right can be a headache, especially if you're an inexperienced cook. For instance, many people who prepare their meals at home rarely include enough vegetables in their diet.
Regardless of the meal kit you choose every week, you'll get enough of everything. Most of them have high protein and fat, as well as relatively low in carbohydrate energy. Vegetables are also an essential part of every meal kit, making every serving a nutritious meal for you and your family. (1)
Encourages healthy eating
Many employed people find it hard to prepare meals after work because of limited time. Cooking food from scratch can be stressful since you'll need to look for all the ingredients and measure the right portions before you can start the process. As such, you may resort to fast foods and takeout meals, which aren't really good options for anyone looking to improve their health. High calorie-food, fat, and grease can make you unwell, feel sluggish, and may also have long term repercussions on your health.
So, how do meal kit delivery services help solve this problem? Once you're subscribed, you can easily plan your menu for the rest of the week, while adding different vitamins and nutrients to each of your servings. Also, the good thing is that meal kits come with everything you need to prepare your food. However, you might need to get salt, pepper, some milk, and other additives separately, though, as mentioned earlier. Additionally, most of these meals take about 35 minutes on average to prepare, making it a perfect fit for someone who leaves for work early in the morning and comes back home exhausted late in the evening.
Meals are formulated by experts
Most people don't follow the necessary nutritional rules closely. As such, they end up eating food just for the sake of it rather than doing so to improve their wellbeing. In big meal kit companies, there are dietitians and even doctors tasked with the formulation of meals for various dietary needs. Therefore, all you'll need to do as a customer is find a specific package that meets your needs and order it. Apart from their health benefits, these meals have their calorie levels indicated next to them so that you can choose the best for you and your families. (2)
Other organizations may even go a step further and provide you with the necessary advice based on your health needs. For instance, if you're looking to gain or lose weight, there's a specific diet that'll help achieve that goal. The dietitians and doctors in the house won't only recommend an effective eating schedule but may also arm you with additional knowledge that'll help make your project a success.
Simplified decision making
If you're living alone, you already know the stress and never-ending thought process that goes into selecting your next meal. As such, many people usually find themselves eating the same meal over and over because they can't think of something else to eat for dinner or lunch. With such eating habits, you won't enjoy enough health benefits from your meals because your body won't receive all the nutrients it needs.
When you go for a meal kit, however, you get to choose a meal for each day of the week. Of course, you can also decide to get meal kit servings three times a week, then prepare your own food the rest of the days. Either way, your body will benefit a lot from this schedule because you'll be receiving all the necessary nutrients throughout the week. Thus, your overall health will significantly improve in the long run.
Gives you enough time for your workouts
All the points discussed in this article so far have been about the direct effects of meal kits on your health. Are there any indirect benefits? Time constraints have always been an issue for most people, especially those looking to work out in the evening or in the morning.
For instance, someone who needs to be at the office by 8 a.m. and leaves at about 4 p.m. may struggle to incorporate other things into their schedule. Lacking enough time to even go for regular workouts may have a huge impact on their physical and mental health.
So, how do meal kits help combat this problem? Having something healthy that you can prepare within 35 minutes gives you the confidence you need to engage in physical activities after your daily office work. Simple exercises, like taking a walk, can significantly improve your overall health.
With these meal subscription services, time isn't the only benefit you get when it comes to your workouts. As mentioned, every package is prepared and approved by nutrition experts. Therefore, if you need a weekly set that'll supplement your workout schedule, you'll definitely get it.
For example, if you're new to the world of bodybuilding and looking to gain muscle mass, it's imperative to note that a diet rich in protein will significantly boost your goals. You can order a weekly meal kit that provides these nutritional benefits.
Conclusion
Health is a crucial aspect of every person's life and should be given the seriousness it deserves. Your eating habits is one of the main factors that can have a significant impact on your overall wellbeing. Taking junk food and takeout meals on a regular basis doesn't only come with financial repercussions, but it's also a disadvantage to your health.
For these reasons, it's a wise idea to subscribe and invest in meal kit services. Ordering three or more meal kit packages per week may improve your health by a huge margin. These services encourage healthy eating habits, ensure nutritional balance, and give you enough time to concentrate on your workout programs.
It's also worth noting that meal kits may improve your saving habits by ensuring that you plan ahead on your spending. Knowing how much you'll be spending for the next few weeks or months can help you decide on how much you're going to save without stretching your budget.
References
"The Best Meal Kit Delivery Services for Every Kind of Cook", Source: https://www.wired.com/gallery/best-meal-kit-delivery-services/
"The Ultimate Guide To The Best Meal Kit Delivery Services", Source: https://www.forbes.com/sites/katiebell/2016/03/21/the-ultimate-guide-to-the-best-meal-kit-delivery-services/?sh=6e1ced2a7375
"The Ultimate Guide to Understand the Meal Kit Delivery Market", Source: https://medium.com/shakeupfactory/the-ultimate-guide-to-understand-the-meal-kit-delivery-market-cce713434f7a