ADHD is among the most common, complex and treatable neurodevelopmental disorders, impacting more than 5% of the global population. Once considered a childhood condition, adult diagnosis rates are growing four times faster than among children in the U.S.
Yet, despite the rise among adults, it is estimated that fewer than 20% of adults with ADHD have been diagnosed or received treatment – equating to millions of people struggling daily with the condition. Compounding the issue, there are no industry guidelines for diagnosing or treating ADHD in adults to aid clinicians through the intricate process.
ADHD care has been complacent for too long. Now is the time to take action and make a genuine difference for those with ADHD.
Lifelong Impacts of Untreated ADHD
When left untreated, ADHD can negatively affect all aspects of a person's life, from relationships to education, financial stability and employment. Studies have found that people with untreated ADHD have increased mortality rates and higher risks for suicide, incarceration, divorce, bankruptcy, car accidents, anxiety, and depression.
These outcomes are preventable. However ADHD care has not changed in nearly three decades, and the gaps are glaring. The need for improvement in the standard of care for ADHD is more critical than ever.
The Many Roadblocks to ADHD Care
There's no denying the mental health crisis we're experiencing today, and ADHD is a significant contributor. The substantial provider shortage and limited knowledge about the disorder among clinicians are two of the most critical challenges a person faces when seeking help. In fact, more than half of the counties in the U.S. lack a single psychiatrist. The easing of telehealth restrictions during the pandemic lessened some of these issues, but threats of those being reinstated can set us back considerably.
In addition to patients' limited access points to care, there's still a stigma around mental health that prevents many people from seeking help. The lack of standardization of care for ADHD adds more chaos to the already complicated field. Traditional diagnoses rely solely on subjective, interview-based assessments, which can be riddled with bias and, for adults, depend on experiences and memories from decades prior.
Where Do We Go From Here
We're at a pivotal moment for mental health where the decisions made by policymakers, payers and industry leaders will have monumental effects on the future of millions of Americans. During a recent meeting for the ADHD Expert Consortium, a diverse group of 18 ADHD professionals discussed the current state of ADHD care and the implications of the remaining status quo. Responding to the simple question, "If we do nothing to improve ADHD care in the U.S., what will happen?" The experts shared:
"ADHD is a tremendous drain on the system. Healthcare organizations, both payers and providers, typically waste vast amounts of time and money going down the wrong path because they're not focused on achieving meaningful clinical results for patients. The stigma of ADHD is very real. If we take a step back and let the experts weigh in on what is right and most important, we can save a lot of time and money."
~Jennie Byrne, M.D., Ph.D., Psychiatrist, Physician Executive, Healthcare Consultant with Constellation PLLC
"Good mental health helps people feel good and builds self-esteem, creating a positive cycle of success. The current standard of ADHD is not great, despite it being such an important problem for individuals, families and society. The better we work with ADHD, the more benefits everyone will reap."
~Dr. Sarah Cheyette, Pediatric Neurologist with Palo Alto Medical Foundation
"If we continue to do nothing, nothing will change, and we will continue to get what we get. The definition of insanity is doing the same thing over and over again and expecting different results. The results we're getting are increases in substance abuse disorders, truancy, and elevated levels of anxiety and depression, which are results of untreated ADHD."
~ Aaron Dodini, MS, MA, Ph.D., Psychologist at Dodini Behavioral Health
"There's so much extraordinary untapped potential in the world. With the current system, kids are not growing up to reach their potential and are disconnected from relationships. There's this ability for us to be in a relationship with each other and have healthy, sustainable, lasting families that often get damaged when ADHD and mental health issues are not properly identified, addressed and supported."
~Elaine Taylor-Klaus, MCC, CPCC, co-founder of ImpactADHD, ImpactAnxiety and ImpactParents
Why It Is Imperative We Act Now
The ADHD Expert Consortium is comprised of psychiatrists, psychologists, neurologists, pediatricians, nurse practitioners, neuropsychologists, coaches and patient advocates, all passionate about improving the standard of care for ADHD. Consortium experts advocate for immediate improvements in the diagnostic and treatment process to create meaningful change for their patients, loved ones and across all facets of the healthcare industry.
Consortium members share the impact acting now can have:
"It's important that we act now to integrate more objective measures in mental health to assess, diagnose, manage and treat. We need more evidence-based tools in our treatment, which will lead to better outcome measures and higher reimbursement rates."
~Dr. David Aversa, University Psychiatrist, Quinnipiac University; child, adolescent, forensic and adult psychiatrist
"If we act now, we can better identify people with ADHD from the get-go, as early as possible for kids and the families they live with, as it impacts everyone in a household. It's not a one-and-done thing; it's a chronic, lifelong condition. We need to stop the misconceptions and talk more broadly about the fact that ADHD is the most common neuro-behavioral condition in pediatrics. Tying not just identification but appropriate treatment referrals and care coordination so it follows the child and grows with them."
~Nerissa Bauer, behavioral pediatrician; health services researcher; creator of Teach Me ADHD; CEO of Let's Talk Kids Health
"By acting now, we can improve people's overall health. There's a mind, body connection. If a person has ADHD, it affects their body, both mentally and physically. If we treat it now, we can improve their quality of life."
~Dr. Perry Roy, internal medicine specialist, pediatrics, Carolina Attention Specialists
"As Helen Keller once shared, 'Together we can do so much, alone we can do so little.' The sooner we get individuals with ADHD treated, the better the outcomes. We run the risk of worst outcomes the longer we go without treatment. Studies are clear that ADHD treatment is among the safest and most effective in all of mental health. There's a lot of misinformation due to the medication to treat ADHD can have serious side effects, but we must remember the benefits far outweigh the risks."
~James Wiley, M.D., FAAP, Pediatrician at Focus-MD
What the Future Holds
Fixing the challenges of ADHD will not happen overnight, but there's an overwhelming need to act fast, starting at the foundation. Establishing a standardization of care that applies across all clinical settings – both telehealth and in-clinic – that blends technology-driven, evidence-based, objective measurements with the interview assessments gives providers and patients confidence that they're delivering and receiving the highest quality of care. It also allows us to ensure that the right patients are receiving the right treatments. There's so much hope for ADHD, But we have to act now.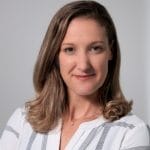 McCall Letterle is the Head of Commercial Operation - North America for Obtech, where she is responsible for the regulatory, research, and clinical operations in the United States. She has previously worked as a US Clinical Advisor and clinical professional working for Qbtech. Her understanding of mental health and ADHD diagnostic procedures, neuropsychological assessment, treatment monitoring, practice management, US healthcare policy, and business/finance allows her to support hospitals, physician networks, and private clinics in improving their ADHD/Mental Healthcare. McCall also works closely with independent research networks using QbTest in various academic and research settings. She is passionate about advancing ADHD research and care within the United States.