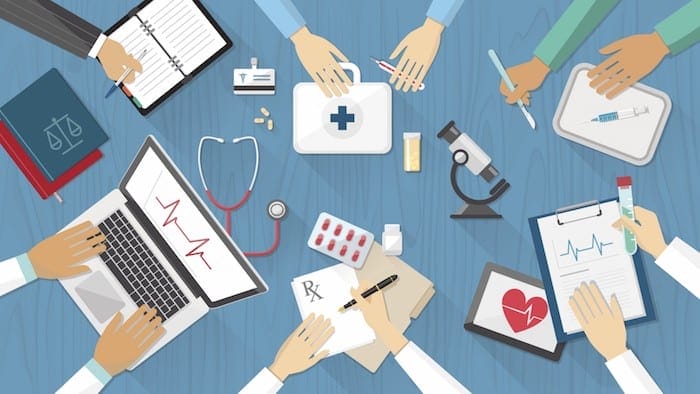 By Sandra Göğer
For centuries, physicians have been treating their patients with evolving efficiency, but have remained invariably reticent about what they cure from or how they do it. Even today, when getting a diagnose or being prescribed a new medication, a patient is at most be handed a nondescript brochure or receive a vague explanation from their physician. At worst, the person is left without any guidance.
As a result of this discreetness, the majority of adult patients are unaware of their key medical information such as blood type, cholesterol and blood sugar levels, says the 2019 Know Your Numbers survey by Quest Diagnostics. Out of 82% of adults who had a lab test, a third did not know where to look for the results.
This approach will suffice no more. Modern patients expect a better-quality medical service, and in particular, they want to be aware of their health state, medication and treatment plans, and lab results. Information accessibility matters as well: almost all of the Quest Diagnostics survey respondents (87%) wished to have their personal health information online, within an easy reach in case of an emergency or for after-appointment review.
To facilitate health awareness, medical institutions don't have to reinvent the wheel but just look closely at the technologies already embedded in their medical processes. One of such technologies, patient portals have a substantial but mostly untapped potential beyond appointment scheduling and patient billing. Particularly, they can be enhanced to serve as reliable storages for protected health data and full-fledged platforms for education and skill development.
This article will explore the best practices of portal-based health education and outline the positive outcomes of patient health literacy.
Build a patient-oriented knowledge base
As healthcare is adopting a more patient-centric approach, the need for adequate patient education is prominent more than ever. Empowered by correct and complete information from an authoritative source, the patients can take ownership of their health state and fully engage in their treatment.
Patients with a full picture of their condition make more informed decisions. Moreover, a clear understanding of an upcoming medical procedure and its outcomes makes the intervention less intimidating, thus taking the edge off it. On top of that, when explained how the prescribed medication plan can help, a patient gets more motivated to follow it.
Converted into a knowledge hub, a patient portal becomes a one-stop shop and ensures medical service continuity. However, since medical information is professional-oriented, it needs to be carefully adapted for reader-friendliness. It is crucial to resort to plain language with less confusing terminology and more relevant information, supported by images where necessary.
Provide access to appointment notes
Granting patients an electronic access to their medication plans and prescriptions has become a commonplace practice today, but this is as far as most institutions are ready to go. Clinicians are reluctant to grant patients more foothold for the fear of it having a depressing effect. However, contrary to the concerns about health information transparency, this practice has a major positive impact on patients.
Since 2010, the Boston, Seattle, and rural Pennsylvania health systems have been sharing appointment notes with their patients via a web portal. A 2019 study of the effects of this practice determined that the majority of patients recognized the importance of these notes for keeping healthy and remaining aware of their treatment plans. The practice turned out to be especially beneficial for elderly, less educated and foreign patients. As for the negative impact, only a few respondents were confused or disturbed when familiarizing with their medical histories.
In view of the above, integrating a patient portal with an EHR and synchronizing the content changes between the two systems is a viable way to keep patients up to date regarding their health state.
Make learning interactive
Even pruned for better understanding, medical information remains mostly unexciting to read. But presented in an interactive format – as a video, a game, or a quiz – it becomes times more engaging and easier to get across to patients.
Hands-on engagement helps learners to better retain the information and reflect on it critically. The comparative study by the University of Michigan Comprehensive Cancer Center of a group of patients determined: those who learned via an interactive tool demonstrated a better understanding of the subject and a higher readiness to make decisions about their treatment than those who studied from static material.
Interactive medical information also makes a huge difference in patient skill-building. For instance, condition-oriented educational videos can teach recovering patients how to properly administer in-house care to themselves, while a quiz can help people with specific dietary restrictions to efficiently balance their nutrition.
What is more, an engaging format makes up for a flatter learning curve for medical knowledge and ensures that patients with low levels of health literacy are not left out.
Not all patient portal solutions support multimedia formats by default. However, embedding a gamification or media management module into a patient portal should not present a challenge, especially with experienced portal developers involved.
Conclusion
Traditional medical service where a patient is treated rather as a passive care receiver is becoming a thing of a past. Forward-looking healthcare systems are actively adopting a more emphatic and engaging person-centered approach to medicine that stems from leveling up patients' health literacy.
The web portal, a technology familiar to healthcare facilities worldwide and inherently geared toward content management, is an optimal option for patient education delivery. Most portal platforms have built-in or installable knowledge base capabilities, so creating a patient-oriented education hub will not require some rare expertise. Still, even if a patient portal was tailor-made without these features, custom development is a reliable way to enhance your software with any needed functionality.  
Sandra Göğer is a Technology Observer at Iflexion, a custom software development company headquartered in Denver, Colorado. 
Healthcare Business Today is a leading online publication that covers the business of healthcare. Our stories are written from those who are entrenched in this field and helping to shape the future of this industry. Healthcare Business Today offers readers access to fresh developments in health, medicine, science, and technology as well as the latest in patient news, with an emphasis on how these developments affect our lives.