Creating a transition path to civilian emergency medical service with cutting edge technology
The statistics can be sobering. For a growing number of veterans, the transition to civilian life is challenging. According to a Pew Research Center study, 26% of veteran respondents found shifting to civilian life to be very difficult or somewhat difficult; that percentage jumped to 48% for veterans who served after 9/11. Making a career transition after leaving the military is key to refocusing one's sense of purpose. How do we create better opportunities for veterans that can ultimately make that transition easier?
For me, my experience as a US Army Black Hawk helicopter pilot serving in the Middle East and Europe gave me invaluable experience that I have dedicated to air medical aviation education for the last 15 years. The people who take my courses, many of whom are also former military, appreciate the stories, humor (sometimes dark) and command of military acronyms my experience has afforded me, making the material even more relatable.
In addition, it's gratifying to see how advances in educational concepts and technology are making the field even more accessible to people seeking careers as air medical pilots and pre-hospital, critical care and flight clinicians – a logical path for those transitioning back to civilian life from military service. 
New opportunities and better access to education
Opportunities are growing in civilian helicopter and medical fields. A recent study projected the civilian helicopter industry will be short more than 7,500 helicopter pilots in the next 15 years. In addition, the medical field is expected to expand at above-average percentages between 2020 and 2030, creating opportunities for medically trained veterans. A trend that is making these opportunities viable for more people is the application of modern educational approaches.
Emerging technologies make it possible to access advanced flight and critical care training regardless of location. This creates an opportunity for those in rural areas who are challenged by travel time and expense to participate in training historically offered in urban areas. By leveraging the latest technologies, a larger pool of pilots and critical care clinicians leaving the military can advance their skills, complete certifications, and fulfill continuing education requirements. 
Modern education for today's learners
In my role as an educator, I see this education trend in action in several ways. Incredibly realistic, high-fidelity manikins can interact and react as a real person experiencing a medical crisis. Clinicians perform procedures, such as inserting a chest tube, and the manikin reacts physiologically just like a real patient would.
Advances in virtual reality (VR) technology make it possible for headsets to be completely wireless and managed remotely by the instructor. Clinicians can be immersed in realistic scenarios – as if clinicians are working in a fixed-wing aircraft or a helicopter – that include patient situations, equipment and interactions with other clinicians.
Serious gaming uses games for teaching rather than entertainment. For example, an escape room can mix clinical knowledge, pop-culture references, and sleuthing into an interactive learning experience. Teams compete with one another to provide the most appropriate care in the shortest amount of time by working through each step of patient care, such as accessing medications or locating lab values, which requires the team to solve the previous clues.
Making new careers accessible to more people
All of these educational techniques give clinicians realistic, hands-on experience that builds skills and confidence. State-of-the-art technologies and greater acceptance of remote learning are gamechangers, helping more people enter new fields, such as my post-military career in the emergency medical aviation industry. The old methods no longer cut it. My husband, a flight medic (who I happened to meet on a rooftop flight deck as I was transporting a patient via helicopter to the hospital where he worked) can attest.
In his recent experience with traditional recertification programs, the use of dry, passive videos is not engaging or effective, especially to the many learners who are part of the Millennial or Gen Z generations. Today's advanced technology makes career opportunities available to more people, particularly those transitioning out of military service. And it's applying one's skills and experience to a new career that creates the renewed energy and purpose people need to succeed. 
Melanie Smith, MIM, MBA, M.Ed is the Aviation Education Manager for Air Methods.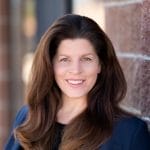 Melanie Smith, MIM, MBA, M.Ed is the Aviation Education Manager for Air Methods.