Cloud computing is a broad term that encompasses various classifications, types, and architectural models. Therefore, we can divide all cloud solutions into three main categories:
A public cloud is used as storage, and customers get remote access to manage the information stored in this way.
Private cloud computing is exclusively for one organization. With this approach, an organization has more control over its resources, security, and configuration options with a private cloud.
A hybrid cloud combines the advantages of both types, allowing clients to store sensitive data or mission-critical applications in the private cloud while leveraging the scalability and cost-effectiveness of the public cloud for other workloads.
This is the main difference between the specified categories, but let's dive deeper into the features of each of the proposed labs cloud options.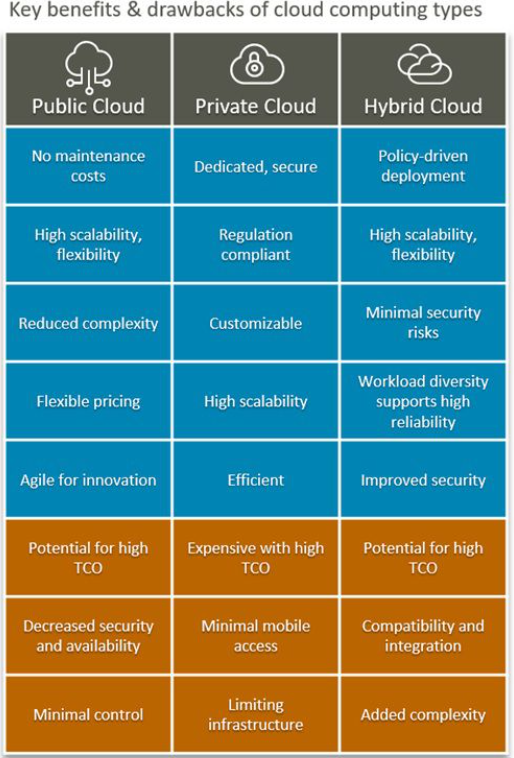 Features of the public cloud
This method of data storage is cost-effective and publicly available, and there are many free options. In addition, such solutions are easy to scale. The main disadvantage is that the infrastructure is used by many clients at the same time.
When is such a decision most relevant?
When the company needs to increase its resources during the period of peak needs quickly.
It allows developers to build and test applications without configuring and managing their infrastructure.
However, there are security risks, technical control over the infrastructure is limited, and it also requires control over the use of resources to avoid unexpected costs.
Features, pros, and cons of a private cloud
A private cloud offers dedicated resources and infrastructure to a single organization. It's a necessary model to protect privacy, adhere to strict security measures, and control settings.
The main advantages of a private cloud:
An exclusive environment that provides a higher level of security and isolation;
Ability to configure security protocols adapted to unique requirements;
Seamless scalability without compromising security and performance;
The ability to optimize the environment according to the company's unique needs.
However, the cost of such solutions is usually higher than in the case of public clouds, and faulty security measures can create difficulties for mobile users.
When should you use hybrid cloud storage?
Migration to the hybrid cloud allows you to get the desired system flexibility and eliminate annoying restrictions. It is a system that is both flexible and productive but without the disadvantages of a private cloud. On this basis, recently, hybrid cloud solutions are gaining the most popularity among GCore customers. However, you should always focus on your unique set of requirements and needs to choose the best option.
The Editorial Team at Healthcare Business Today is made up of skilled healthcare writers and experts, led by our managing editor, Daniel Casciato, who has over 25 years of experience in healthcare writing. Since 1998, we have produced compelling and informative content for numerous publications, establishing ourselves as a trusted resource for health and wellness information. We offer readers access to fresh health, medicine, science, and technology developments and the latest in patient news, emphasizing how these developments affect our lives.