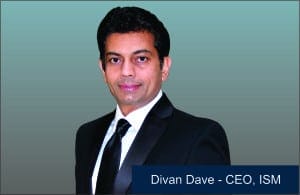 By Divan Dave
Here's what we know. In 2005, the Department of Health & Human Services (HHS) announced that all healthcare facilities providing patient care will be required to transition their patient data to EHR (electronic health records) for the purposes of making real-time, patient-centric records available instantly "whenever and wherever it is needed".
While compliance deadlines will vary based on multiple factors – the timeline is now starting to unfold. Healthcare centers and practices need to move information about a patient's medical history, diagnoses, medications, immunization dates, allergies, radiology images, lab and test results to an electronic system. This provides optimal efficiency in decision-making, allowing for automating and streamlining providers' workflow, as well as, improves accuracy of patient information while supporting key market changes in payer requirements and consumer expectations. A survey by Black Book Rankings revealed that of the 500 respondents interviewed, many blamed themselves for picking the wrong platform for their practice/facility needs.
Whether you are transitioning for the first time or switching to another system, below are 3 points every facility or physician practice needs to consider when choosing an EHR:
1. Define the Needs & Goals of Your Facility or Practice. While this has a common-sense ring to it – too often buyers don't develop a checklist of what they need resulting in poor decision making. To avoid this, identify the specifics of your practice and uniqueness of your patients before evaluating EHR platforms. Some factors to consider: access to high speed of internet connectivity — available budget for implementation –training and maintenance — specialty-specific needs of the practice — integration of legacy systems — preferences of the doctors: do they dictate notes? — Use mobile devices — Communication with other providers and locations. Before evaluating EHR systems – know exactly what you need and then review platforms that are able to address these preferences and necessities.
2. Understand Meaningful Use in EHR selection. Meaningful Use was to be met in three stages over the course of five years. Stage 1 began in 2011-2012; final criteria for Stage 2 went into effect in 2014 which included 44 clinical quality measures (CQMs) with a total of 64 to be incorporated eventually. Stage 3 is to be implanted by 2017. For more information on EHR implementation, incentives and certification visit HealthIT.gov, the official site for Health IT information: http://www.healthit.gov/providers-professionals/how-attain-meaningful-use
To best evaluate EHR In terms of MU – practices again need to ask themselves a series of questions. Some should include: Is your EHR certified by ONC-ACB as a complete EHR and is the vendor Meaningful Use ready? Are they committed to meeting Stage 2 needs as it evolves? Has the vendor received certification for clinical quality measures? How many? Are they ones which are relevant to my practice? Does the EHR include a patient portal?
3. How easily can the vendor implement and activate? The wrong EHR for your practice will slow things down and cause avoidable disruptions. Practices, however, do need to be prepared for a learning curve regardless of the platform chosen – albeit some EHRs being less user-friendly than others.
Here are the questions to ask as you discover and review each potential system. Are they fully integrated with a practice management or revenue cycle management system? How long does it take to implement? Do they have customer templates for multiple specialties or a once-size-fits-all only? Can they support dictation?
Most importantly, find out as much as you can about the company offering the EHR solution. As there are government compliance issues and ongoing updates –knowing that your vendor has an established presence in the business community is critical. Request both customer and supplier references as well as examples of how they quickly "shifted into action" when new regulations were announced and their process for educating you when new updates are announced, the ICD-10 roll-out, etc. They key to success for EHR selection is asking questions – internally and externally until the answers tell the story of your transition. Good luck!
About The Author
Divan Dave is CEO of OmniMD, www.OmniMD.com, a leading provider of innovative Cloud EHR, Practice Management and Medical Billing solutions that transform the operational and clinical workflows of healthcare practices of all sizes. They are ranked among fastest growing INC. 500:5000 companies. He can be reached at [email protected]
Healthcare Business Today is a leading online publication that covers the business of healthcare. Our stories are written from those who are entrenched in this field and helping to shape the future of this industry. Healthcare Business Today offers readers access to fresh developments in health, medicine, science, and technology as well as the latest in patient news, with an emphasis on how these developments affect our lives.